If you are a board-certified family medicine physician with three-five years of teaching experience and are interested in academic rural medicine, Baptist Health Family Medicine Residency Program in Madisonville, KY, would like to speak with you about our Associate Program Director position. The APD works with the program director in developing, directing, and managing the family medicine program. The APD position ensures stability of the residency-training program, including compliance with accrediting and regulatory agencies.
Opportunity Overview:
To provide mentoring, teaching and presenting services to the faculty, residents and students in the Family Medicine Program.
Assists the program director in mentoring and providing critical evaluations of the clinical and teaching effectiveness of the family medicine residents and program.
Ensures adequate physician, resident and other provider supervision of the outpatient teaching services.
Serves as a preceptor for residents who see patients in the FMP.
Participates regularly in nursing home and home visits with residents.
Attends conferences regularly.
Serves as a role model by seeing patients within the FMP.
Participates in residency administration
Assists with the implementation and coordination of the residency training program according to the appropriate guidelines and accreditation requirements of the ACGME.
Participates in the recruitment, selection, and orientation processes of residents and faculty.
Responsible for overseeing required curriculum and elective curriculum and assisting in the preparation of goals and objectives.
Serves as an advisor to assigned residents, ensuring evaluations and other requirements are completed per resident policy.
Participates in the planning and making recommendations for the acquisition of optimal educational resources for residency education.
Serves on assigned committees such as, the Clinical Competency Committee (CCC) etc.
APD acts as Medical Director of the residency clinic and oversees Patient Centered Medical Home
We are searching for a forward-thinking, progressive physician-educator experienced in, and dedicated to, rural family practice, to join the faculty of our Family Medicine Residency Program to help train the next generation of providers. Our highly successful program, now in its fifth decade of producing highly-skilled, ethical and compassionate family medicine physicians to serve rural populations throughout Kentucky and elsewhere, was one of the first residency programs in the country specifically dedicated to rural family medicine.
We are continually evolving our program to incorporate the latest standards of excellence in primary care to ensure our graduates are ready to begin their careers at the forefront of evidence-based medicine. We have been, for instance, designated as a Patient Centered Medical Home by the NCQA.
Our three-year program is home to 18 residents, supported and mentored by 5 faculty members (including the program director), with plans to expand to six. This provides for extensive one-on-one mentoring, which we believe is key to the development of young physicians. Our residency is unopposed at our medical center, so learning opportunities abound. We are also home to a medical school program, in cooperation with the University of Louisville School of Medicine, where we train third- and fourth-year medical students who wish to pursue rural practice. We have a pharmacy residency program, a CRNA program (in partnership with Murray State University), a nursing program and a large number of allied health training programs. The wide range of our educational programs allow us to learn in interdisciplinary teams, providing the best opportunity for both education and patient care. Our residency program is also at the center of our expanding community health efforts.
Our inpatient facility at Baptist Health Madisonville is a highly-advanced medical center, licensed at 410 beds, offering a full slate of services across a wide range of primary care and specialist disciplines. We serve a six-county, mostly rural area with a population base of greater than 150,000. Our faculty are expected to be dedicated physician educators, with 80% of their time spent in teaching activities and 20% involved in clinical practice in our residency clinic. Substantial faculty time is protected for teaching and administrative use in the program. Faculty spend two half-days seeing patients, with a maximum of 8--10 patients per half-day. Hospital admissions from the faculty practice are admitted to the Residency Inpatient Service. We offer extremely competitive salary and benefits in a very low-cost-of-living area.
If you are a physician/educator and you are interested in being part of a progressive, dynamic, patient-centered environment where you can help re-imagine how primary care training is done, please contact us.
For additional information please contact:
Kenny McCarraher, MHA
Manager, Physician Recruitment and Alignment
Office: 270-326-4520
Cell: 270-543-9964
Email: Kenneth.McCarraher@bhsi.com
Competitive compensation and benefits package include:
Competitive compensation and benefits package include:
Starting bonus available
Relocation/moving allowance available
Base salary plus incentive compensation available
Student loan repayment assistance offered
Allowed Time Off
Medical, dental, vision, life and disability insurance
Retirement savings plans - 403(b) and 457
Paid CME and licensure
Medical malpractice insurance
A physician-led medical group
Baptist Health Medical Group brings together all of Baptist Health's employed providers into one comprehensive, muli-specialty network serving residents of Kentucky, Indiana and neighboring states. Backed by the Baptist Health system of hospitals and led by experienced physicians who are distinguished in their fields, the group encompasses over 1,500 providers, including 800 physicians and more than 700 advanced practice clinicians. These professionals include primary care providers, as well as highly trained surgeons and specialists offering advanced treatments, technologies and care.
While many of the Medical Group's administrative functions are centralized, Baptist Health recognizes that healthcare is delivered on a very personal level. Therefore, the governing structure includes local leadership councils and operations staff in each of the system's three regions, Kentuckiana, East and West, to address each community's unique needs. These councils work together to ensure that patients visiting a Baptist Health Medical Group provider can expect the same quality care at each of our practices and in each of our hospitals – care that is appropriate, timely and centered on our valued patients.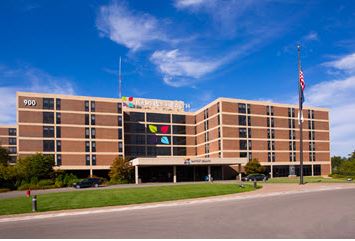 Baptist Health Madisonville is a 410-bed acute and skilled care facility with a special emphasis on community outreach and training students to provide medical care in rural areas. For its patients, the hospital has clinics conveniently located in nearby communities to provide care close to home. Overall, Baptist Health Madisonville offers 37 points of care.
Our Services:
The Jack L. Hamman Heart & Vascular Center for heart care, including electrophysiology
A nationally accredited cancer care program in the Merle M. Mahr Cancer Center
The Sleep Disorders Center, accredited by the American Academy of Sleep Medicine
Mother and Baby care, including the Centering Pregnancy® prenatal program – the only one of its kind in western Kentucky
Neonatal Intensive Care Unit (NICU)
Award-winning Women's Services
Acute rehab unit
Complete range of diagnostics technology, including 3-D mammography
Home Care and Hospice, serving patients in 11 counties
In 2012, the hospital – formerly known as the Trover Clinic and Regional Medical Center -- joined Baptist Health.
Baptist Health Madisonville has a network of healthcare providers for patients in the area – from Baptist Health Medical Group offices, to Baptist Health Urgent Care. Baptist Health Madisonville has more than 300 physicians and other providers on staff, representing a wide variety of specialties.
The hospital has earned Pathway to Excellence designation for excellence in nursing services by the American Nursing Credentialing Center.
Madisonville and Hopkins County are home to Kentucky's largest variety of outdoor recreation activities, including scenic trails, tranquil lakes, rolling grasslands and dense forests. Madisonville offers a variety of dining options, a state-of-the-art fine arts theatre and gallery, and a large selection of comfortable and hospitable accommodations.
Madisonville is home to an award-winning school system – Hopkins County Schools, and higher education through Madisonville Community College and Murray State University Regional Campus.
The fun extends beyond Madisonville. Dawson Springs offers a rich cultural history as an 1800s spa town and is the front door to the natural beauty of Pennyrile State Forest and Lake Beshear. Hanson is home to Kentucky's smallest historic district, offering a wonderfully restored downtown that is a must-see stop for artisan crafts and antiques.