FARGO, NORTH DAKOTA (USA)
Sanford Health's Department of Infectious Disease has an opening for a BC/BE Infectious Disease physician with a passion and expertise in Transplant Infectious Disease.
Qualifications for the ideal candidate would include completion of an infectious disease fellowship and board certification/board eligibility in Infectious Disease. Advanced fellowship training or experience in the management of transplant infectious diseases and immunocompromised patients is highly desirable. The successful candidate will be involved from the inception with Sanford's prestigious Roger Maris Cancer Center's Bone Marrow Transplant Program set to launch in the Fall of 2021. The BMT program will include autologous and allogeneic transplants and immunologic cellular therapy programs.
• Join an established, highly respected and collegial practice of six physicians and one nurse practitioner.
• Position includes inpatient transplant ID consult service as well an outpatient setting with part of the time spent on the general ID service, all of which are part of one integrated hospital and clinic.
• Additional opportunities for infection control, antimicrobial stewardship, clinical research and teaching of Internal Medicine residents and fellows from the newly- approved Hematology/Oncology fellowship program
• Call is 1:6. Full Hospitalist support. No admissions.
Sanford Health offers Nationally Competitive two-year guarantee with an additional Physician Benefit package including, 401K, Health, Dental, Vision, Paid CME, Paid Time Away, Malpractice, Disability, Relocation Allowance.
Location:
To learn more about this practice opportunity or to forward your CV for consideration contact: Laura Viozzi, Physician Recruiter
Fargo Stats
610 beds

643 physicians

399 advanced practice providers

Total population 436,590

5-year population grown projections 6.8%

Median household income $58,988

Unemployment rate 2.4%

Population over 65 years 16.3%
Sanford Medical Center Fargo
In 2017, the new Fargo Medical Center was completed. In its 1 million square feet, the medical center houses 384 beds, 28 operating rooms and 51 emergency department bays.
Largest hospital in North Dakota

Level I Adult Trauma Center

Advanced Comprehensive Stroke Center

Largest employer in Fargo

Primary teaching institution for the University of North Dakota School of Medicine & Health Sciences

Six residency training programs with the UND School of Medicine

On the Top 100 Hospitals list

Home of Sanford Children's Hospital, the largest children's hospital in North Dakota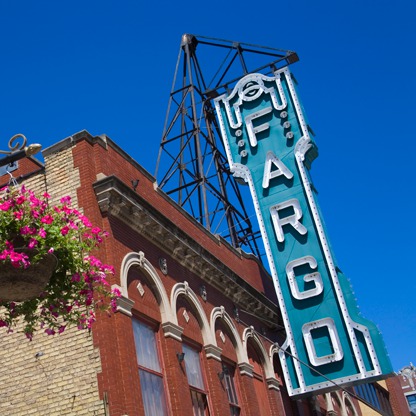 The metropolitan community that includes the City of Fargo, West Fargo, ND and Moorhead, MN is located in Cass County, ND and Clay County, MN. The extended community is along the Red River of the North which forms the border between Minnesota and North Dakota. This robust, metropolitan, community of nearly 250,000 continues to grow at a comfortable rate and offers the best of both worlds. More than 26,000 college students contribute to the area's entrepreneurial spirit, its educated workforce and to national rankings as a #2 Metro in the U.S., Top 50 Digital City and Smartest City in the U.S.
The community is large enough to support many amenities of a large urban setting such as an International Airport, Community Theater, Symphony, three universities and a community college, a professional baseball team and a zoo yet not so large as to generate the drawbacks such as a high crime rate, traffic congestion and pollution.

Thirty-six arts and cultural organizations and the three university communities generate cultural and sporting events for all to enjoy. Year-round sports and recreational activity for children and young adults are provided through the schools, park districts, private organizations and the YMCA.

Three public school districts and two parochial school systems offer a wide selection of high-quality courses at all levels.

The area enjoys four seasons with low humidity making for pleasant spring, summer and autumn days. Average high temperature is 16 degrees in January and 82 degrees in July.
Fargo's historic central business district is a vibrant commercial area providing unique opportunities for housing, shopping, dining and entertainment. West Acres Regional Shopping Center is located at the junction of Interstate Highways I-94 and I-29. Neighborhood and specialty malls are located throughout the city.

Fargo is home of the North Dakota State University Bison, playing Division I football in the Summit League.
Chamber of Commerce
Arts and Culture
Public Schools
Colleges and Universities
Hector International Airport
Symphony and Community Theater
Visitors and Convention Bureau
Parks and Recreation
FM Red Hawks
Red River Zoo
Sanford Health, one of the largest health systems in the United States, is dedicated to the integrated delivery of health care, genomic medicine, senior care and services, global clinics, research and affordable insurance. Headquartered in Sioux Falls, South Dakota, the organization includes 46 hospitals, 1,400 physicians and more than 200 Good Samaritan Society senior care locations in 26 states and 10 countries. Learn more about Sanford Health's transformative work to improve the human condition at sanfordhealth.org or Sanford Health News.
When you join Sanford Health you will join a leader in the health care industry in the Upper Midwest. Sanford offers:
Excellent salary package, including comprehensive benefits, relocation allowance

Paid malpractice insurance

Research and academic opportunities

Call schedules allowing for meaningful family time

Excellent referral base from Sanford Health primary care clinics

No partnership buy-in costs

State-of-the-art technology

For more information regarding this excellent practice opportunity contact:
Sanford Health Physician Placement (Fargo Region)
510 6th Ave N, Suite A
P O Box 2010
Route 2181
Fargo, ND 58122-2181
Phone: (701) 234-6510
Fax: (701) 234-6575
PhysicianRecruitmentFGO@sanfordhealth.org